What makes Catego® unique?
Catego® was designed specifically for cats and only cats. It is the only product with the unique combination of these three proven active ingredients: Dinotefuran, Fipronil and Pyriproxyfen.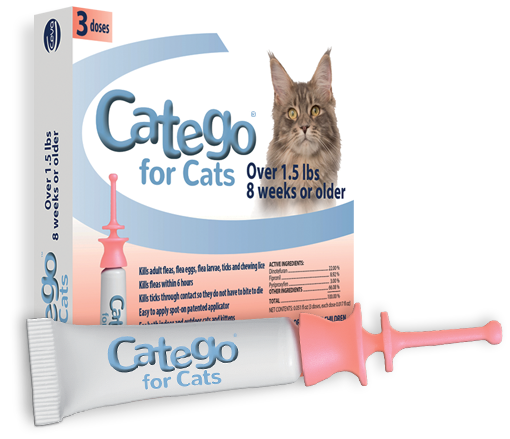 Protect Your Cat from Harmful Parasites with Catego®
Kills fleas, ticks, and chewing lice
Patented applicator makes it easy to apply and minimizes the risk of skin abrasion.
Non-greasy
Quick-drying
Small-volume application
One low-volume formulation.
For all size cats weighing over 1.5 pounds
And over 8 weeks of age
Available in 1-dose, 3-dose and 6-dose packs.
Protection lasts for a full month with just one application.
Rated

5

out of

5
by
lovemymares
from
Works Where Others Have Failed
My barn cats wander the pastures when not in the barn. Flea and tick products that protected them for years were no longer effective. Thankfully, Catego has been. None of the three cats have shown any sensitivity to the product, and there has been no sign of fleas or ticks. Catego seems to work effectively for at least 30 days. The cats are happy, so I am happy.
Date published: 2018-06-20
Rated

4

out of

5
by
mbell
from
Easy to use
I received Catego as a free sample and I am happy to say that it did its job. My cat has not been attacked by fleas. There were no side effects and it was easy to apply. I hope to receive more e free samples, Thank You!
Date published: 2018-06-20
Rated

5

out of

5
by
Kippy
from
No Fleas
It has been almost a month since I applied Catego on my cat and I have not found any fleas for at least 3 weeks. He didn't have a lot to begin with but Catego got rid of them. It was very easy to apply and my cat had no side effects. Going to continue using this product.
Date published: 2018-06-20
Rated

5

out of

5
by
Mattkerouac
from
Finally a product that works!
We have tried everything to find a flea product that works on my cat. He has long hair and always seems to have a few fleas. We tried this about a month ago and it worked great. Easy to apply and our cat seems much happier.
Date published: 2018-06-20
Rated

4

out of

5
by
Karatek9321
from
Easy to Use!
The Catego for Cats is an easy for one to take care of their cat from getting any fleas. It's very easy to apply and it didn't seem to bother my kitty at all. Overall, this is a great product to help protect your pet!
Date published: 2018-06-20
Rated

5

out of

5
by
Aubree
from
Wonderful Product
Usually during this time of year my cat starts to get itchy and we head out for flea medication. I received the Catego medication just in time! My cat hasn't done the crazy scratching thing that he does to show me that the fleas are back. I'm so excited about this product! I will definitely be purchasing Catego products in the future.
Date published: 2018-06-20
Rated

4

out of

5
by
Erinniko
from
Good product
From what I can tell this product seems to be working well. Haven't had any issues as of yet. It was easy to apply. The hard part was catching the cat. I would recommend this product to anyone who has a cat.
Date published: 2018-06-20
Rated

4

out of

5
by
Aubre
from
Does the job
This product worked well for the cat to keep her safe from fleas, ticks, and anything else outside that we don't want her to get. It was easy to use and works fir the month. With that it would come in a few month increments or that it would last longer. But, most products are just for the month.
Date published: 2018-06-19
WHAT if your cat has a severe case of Lice will catego still work abs how often do I apply it if it's this bad
Hi, Amanda! Yes, Catego kills chewing lice. It should be applied monthly, or as recommended by your veterinarian.
Date published: 2018-06-19
How long should cats be separated from each other after application?
We recommend that you keep them separated until the product is dry. This is to ensure they do not groom each other.
Date published: 2018-06-18
I just put this product on all 4 of my cats exactly the way it is to be applied. My one cat some how reached the back far enough that she got it on her paw and of course licked it. What do I do???? Will she be okay??????
Accidental oral exposure may cause a taste reaction leading to some excessive drooling, or mild, temporary gastrointestinal upset if ingested. We recommend offering a taste treat to remove the taste of the product.
Date published: 2018-06-18
How long must I wait after application to bathe my cat?
You can bathe your cat 24 hours after application. We recommend a non-stripping shampoo, such as oatmeal or one designed specifically for cats and kittens.
Date published: 2018-06-12
I would like to try this product for my cat. Is there a free sample?
Hello, Chrystal. We do give out free samples from time-to-time on our Facebook page. Please be sure to follow us @YouLoveYourCatCeva or @CategoUS.
Date published: 2018-06-11
My cats weigh 20#. Is one tube enough for a month
Yes, one tube is enough to protect your cat for one month.
Date published: 2018-06-06